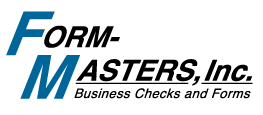 Standard "Plus" Continuous Business Checks and Forms
(Imprint Available in 1 of 15 Colors)
Browse our Standard "Plus" Product Catalog
Search for Standard "Plus" Products by Software Program
Continuous checks and forms with more colors to choose from. The Form OneSP program for continuous checks and continuous business forms lets you determine your own unique style. First, YOU select a favorite background. Second, YOU choose a border style. Third, YOU can select up to two ink colors for your company information and accent colors. If it means modifying a standard continuous check or continuous business form layout or creating a special format from scratch, we have the flexibility to create exactly what you need. The continuous checks are produced on 25# check stock with additional security features.
Click on "Continuous Checks and Forms" on the navigation bar on the left for more detail information for continuous checks and continuous forms. Call for help with placing your order.

Continuous Checks

"Plus"
Designer
Level

Continuous Forms

Main Features: Continuous Checks

Pantograph Styles: 51 backgrounds to choose from
Colors: 14 standard colors - see above color chart
Borders: 58 different options
Parts: Up to 3 parts (white, canary, pink)
Sizes: 9-7/8" x 7", 9-1/2" x 7", 9-1/2" x 6", 9-1/2" x 3", 8-1/2" x 7"
Imprint: Any one of the 14 standard colored with FREE logo
Security Features: Up to 11 standard included FREE

Continuous Business Forms are available by clicking the navigation link "Continuous Checks and Forms" to the left. There you will find 100's of continuous forms and checks for all your business forms requirements. Look under the Continuous Checks and Forms - Form OneSP Option.
SAMPLE of a FormOne SP Continuous Check in one color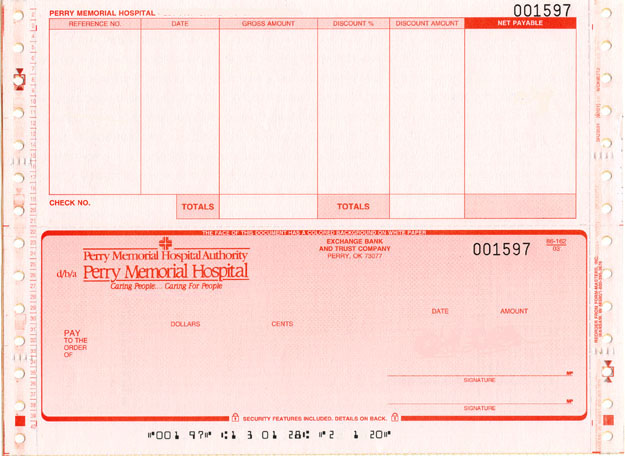 POSITIONING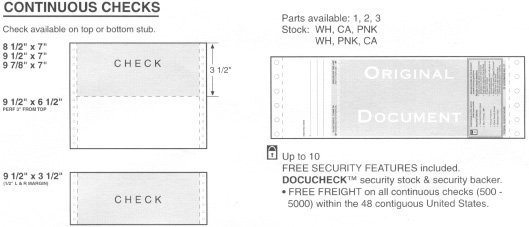 Need More Information? Click Here!